Wood wax oil has a slight taste, but it is fast drying. It can be used for the next day of decoration. After drying, it has no taste. Be sure to do it under ventilation. Wood wax oil can be said to be the most environmentally friendly wood coating.
How to identify the wood wax oil on the market:
1. Wood wax oil is not painted, and paint film is paint. Don't spend money on wood wax to buy paint.
2, wood wax oil is matte or semi-matte, can not do the light effect, the paint effect is the paint;
3, wood wax oil is specially used on wood, no primer finish, not used on the wall, unless your wall is wood; the wall is called latex paint;
4, wood wax oil has a slight taste, but it is harmless to the body, after the application is dry, there is basically no taste; if the taste of the water or oil after the application is not scattered, it means that the wrong purchase.
5, wood wax oil drying time is generally 4-8 hours dry, 8-12 hours of dry, if not dry for a long time, and sticky hands indicate that the quality of the goods you buy is not good. To judge whether it is dry, you can look at the soft cloth for construction. If the cloth is still soft, it means that it is not dry, and the wood is definitely not dry.
6. Although the wood wax oil can be DIY, it does not mean that the wood wax oil production can also be DIY. Its technical threshold is not as low as people often imagine, so buyers should be careful to buy the technically immature wood wax oil products. . Identification method: Whether it is very sticky when applied; or not dry for a long time; or there is taste after drying; the surface gloss is very high, if this is the result, you have bought fakes!
Note on wood wax oil:
1, wood wax oil effect: wood wax oil can be made of antique, Chinese, rural, Mediterranean and other effects.
2, in the construction is convenient, friends who do not understand the wood wax oil, whether it is their own DIY or ask the workers to help, you must first test, find the feeling. Wood wax oil and the paint coatings often seen are completely different products. They cannot be treated with the previous thinking. They must be done according to the manufacturer's method, so as to avoid irreparable damage caused by large-scale construction!
3, when choosing wood wax oil, you should ask the difference of its products, it is wood oil (only vegetable oil, low concentration, low coating rate, poor water and stain resistance) or wood wax oil (more waxy ingredients, High concentration, high coating rate, good waterproof and stain resistance), there are probably ingredients to know, such as what vegetable oil is plant wax inside, some brands are tung oil, so the taste is slightly larger, which is the reason of tung oil itself; inside If it is palm wax, it has high hardness, good water and stain resistance, and beeswax is less.
4, the choice of wood wax oil for different purposes, the current variety of wood wax oil, there are special wood wax oil in different places. For example, hard wax oil for floor and furniture countertops, colored wax for furniture, ceiling siding, etc., and clear wax for mahogany hardwood. Therefore, use the appropriate wood wax oil as much as possible in the case of cost savings.
Our Magnetic Planner have a very smooth writable surface, no peeling and bubbling,for easy to write and wipe. High quality magnetic base for sticking on fridge,make sure it's not easy to drop. Different designs are designed for different scenes,more styles, more choices.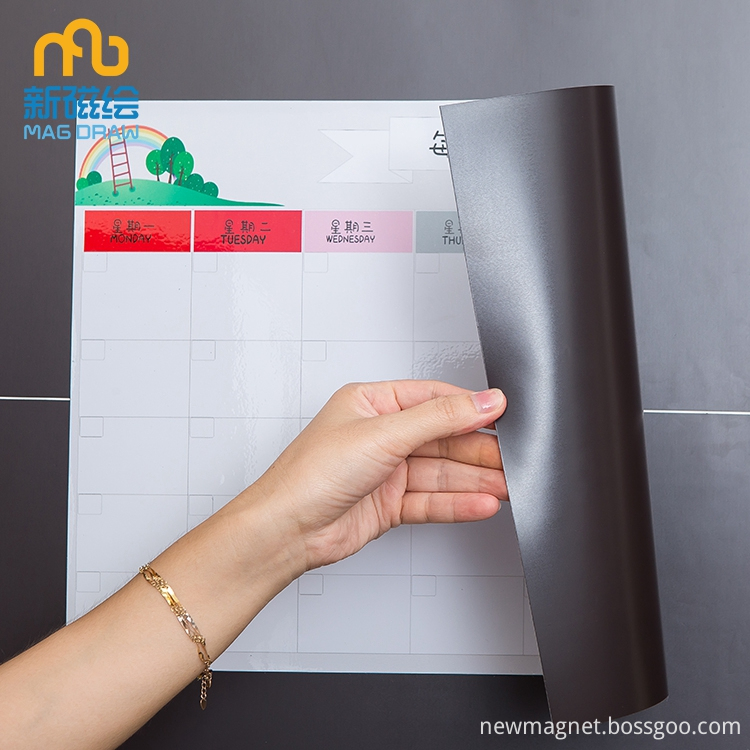 The most advantage is high quality very erasable. Leave no any residue and not leave behind any marks after being erased. It can be erased cleanly after long time. Our magnetic planner is very hot sale in amazon. We've already cooperated with the customers from amazon and they get high good reputation.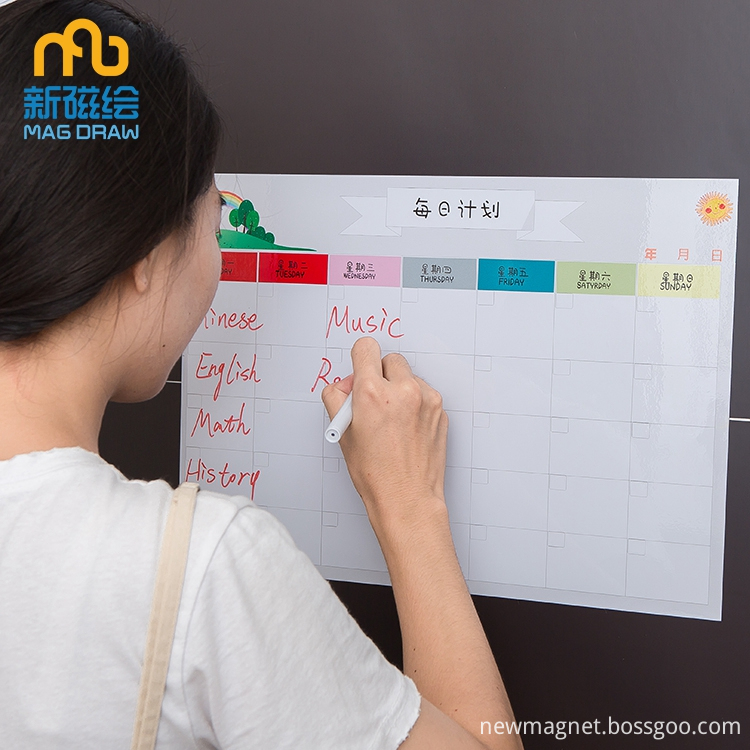 Calendar Planner
Weekly Schedule Planner,Calendar Planner,Monthly Planner,Weekly Planner
Guangzhou New Magnetics Technology Co.,Ltd , https://www.softwhiteboard.com